About DELA TORRE AND CO., INC.
Company Profile
DELA TORRE AND CO., INC. (DCI) has been manufacturing and marketing various types of rubber since 1992. DCI has become synonymous to quality rubber products and services that are competitively priced. DCI products are supplied to the construction, mining, marine, chemical, pulp and paper, agricultural, sugar, food, transport, energy/power and manufacturing industries.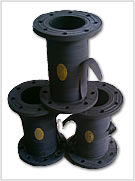 Why DCI?
Over 20 years of making quality rubber products.
Custom-made to meet your requirements.
Serving various industries.
We continuously strive to achieve the highest standards.
Our products are tried and tested.